Normandy Gardens and World War II: Your Perfect Vacation Combo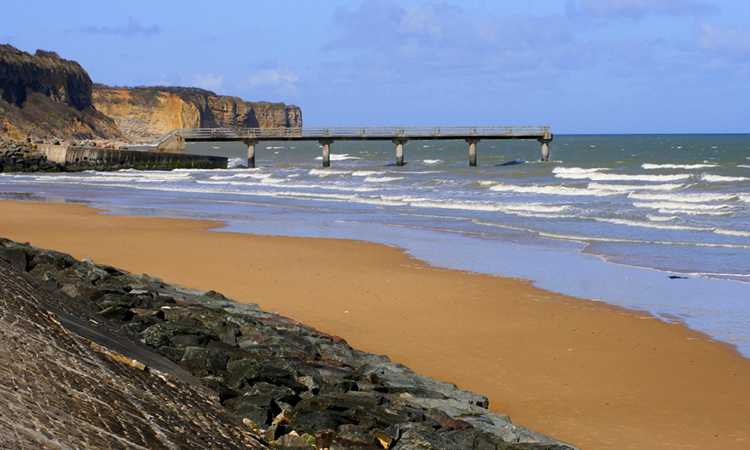 The ideal vacation for husband and wife; she is a consummate gardener and he is a history buff. Travel to where Claude Monet painted the day away in impressionistic gardens. Touch the sand and breathe the air where thousands of brave soldiers lost their lives. Welcome to Honfleur, Normandy, France. Plan your perfect vacation combo for a Francophile adventure together.
Mussels and Muscles
Gently swaying sail masts and seven story wooden houses bring history and idyll of years past together where couples can stroll amiably along the dock and stop for a bucket of mussels drenched in cognac and cream. Jump on bicycles and pedal through remarkable wildflowers in the Pays D'Auge area surrounded by lush pasture land. Dramatic chateaux and grand cathedrals rise with brilliant heritage. Your day of adventure begins with café au lait, local bread and jam as you gaze upon pinks, blues and yellows of famous painters. Later sip calvados or bubbly apple cider after touring Le Jardin des Personalités.
Beaches of WWII Beckon
No holiday to Honfleur is complete without visiting the D-Day landing beaches. Surrounding dunes with still sobering bomb shelters and gutted earth provides the echo of brave souls, whether you are British, American or Japanese. For an authentic vision of 1944 Normandy, take a walking tour to satisfy both history and garden lovers along the windswept coast. Bunkers and turrets bring the rumble of war to life. After a day of reflection and inspiration partake in gastronomical heaven. From rich buttery cream to organic vegetables and farm raised animals, the art of exceptional food will bring a dramatic end to a poignant day.
Sharing your focus for a vacation can sometimes be difficult. You and your spouse can set off for your perfect vacation combo by combining his and hers favorite activities into one ideal destination on the coastline of France in Normandy. Honfleur is unsurpassed as just the right place to plan your next vacation for couples.
And prior to making your trip, don't forget to compare travel money and buy euros online at the best exchange rates.