The three best beer festivals in the world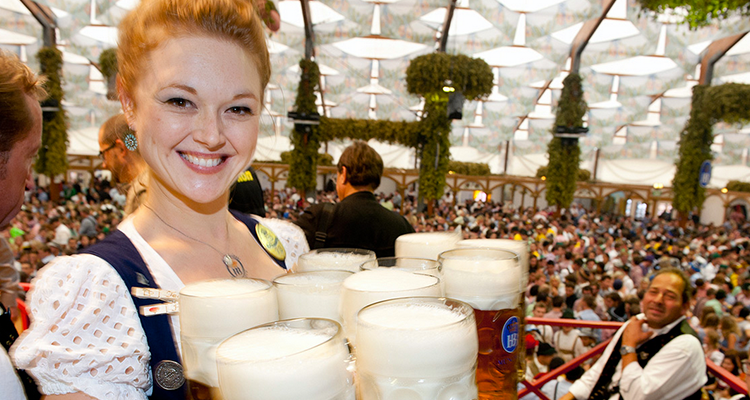 Beer lovers are in excellent company, as this beverage is more popular than any in the world, except for water and tea. Connoisseurs can enjoy offerings from every corner of the globe in the many specialized beer markets, but true devotees know that the best beer is to be had at the various annual brew celebrations.
St. Patrick's Festival, Dublin
March 17th might inspire parades and green beer for Irish everywhere, but it is Dublin, Ireland, that claims the title of the largest St. Patrick's Day celebration in the world. Four days of parties, parades, and pub crawls honor Ireland's patron saint, who was born Scottish and brought to Ireland in 432 A.D. as a slave. Best known for banishing all serpents and snakes from the island, St. Patrick is associated with the most important Irish traditions. This year, see them for yourself with a trip to the Emerald Isle, and raise a toast with your own pint of Guinness.
Oktoberfest, Munich
Germany is well known for its love affair with beer, as popular at breakfast as it is for a late night beverage. The annual beer celebration in October draws such large international crowds that you must book now if you plan to participate. Twelve giant tents on the Theresienwiese meadow house up to 6,000 revelers each. The event opens with an enormous parade through the city, ending in the fairgrounds, where beer tasting is complemented by concerts, side shows, carnival rides, and shooting galleries.
Bockfest, Ohio
Though perhaps not so ancient, the United States, too, has a proud beer tradition. The country's oldest, grandest beer festival takes place each year in Cincinnati, Ohio, with several months of Bockfest preliminary events leading up to the main attraction on the first weekend in March. This year, from March 2-4, honor not only Cincinnati's brewing heritage, but also its German-American roots. Enjoy the opening Bockfest parade, live entertainment, brewery tours, and the prestigious homebrew competition, in an unforgettable 20th anniversary celebration.
Convinced that you can't miss these three festivals for beer lovers? Visit MyTravelMoney.co.uk and compare travel money for your next international beer festival.