Free advice on the top adventurous activities in New Zealand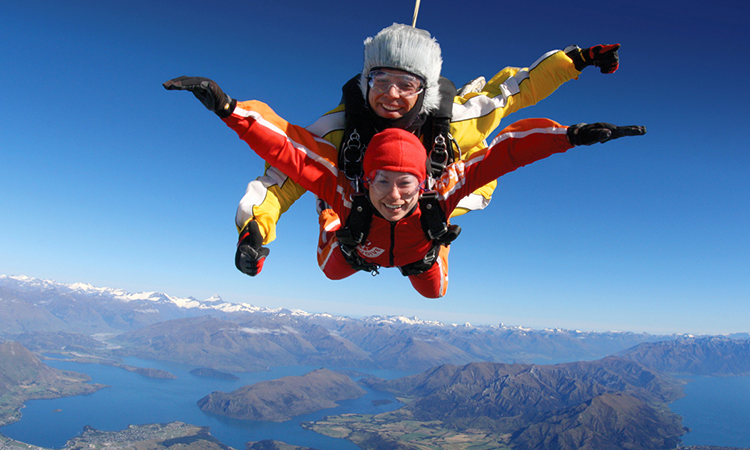 New Zealand is arguably the best place for any adrenaline junkie in the world but if you're having trouble deciding what to do and where then you've come to the right place because MyTravelMoney.co.uk have put together this quick read guide on where to go and what to do.
Wanaka
Parachuting
What could be better than jumping out of a plane and feeling a rush of cool air against your face as you open your parachute? For some people, nothing. Many people class sky diving as the ultimate rush of them all that nothing else can top. So why don't you join them and sign up to some parachuting whilst in Wanaka?
Kayaking
Perhaps kayaking is more your thing? Paddling through waves and clear waters and being able to connect with nature is an enjoyable and relaxing feeling. You can float leisurely along or you can pick up the pace and make it faster and exhilarating- it really is up to you. Kayaking with a loved one means you can share the experience with others and feel that bond that can only be created through a shared adrenaline rush.
Rock Climbing
Maybe you're less into air and water and more into earth? Then Rock Climbing is your thing. Rock climbing is a great way of getting your blood pumping on a sunny day and freeing your mind of modern troubles and letting yourself get lost in the experience. It's always nice to be living in the present as we all have trouble with this sometimes and find ourselves pondering the past or future far more than we should. Rock Climbing is about being there in the moment and not worrying about anything else apart from where your next foothold is. If you want to know why Rock Climbing rocks, (pun unashamedly intentional) then go book some rock climbing on New Zealand's south coast.
Westport
Jet boating
Jet Boating is for those of you, like me, who like to do something thrilling but not life threatening- jet boating is exactly that. Although you'll be screaming and whooping as the jet boat fishtails and 360's at top speed- You're really pretty safe. Despite being tamer than it seems, jet boating will keep you coming back for more with its refreshing breeze and dramatic turns and dodges. It's one of those activities that makes you feel awake and very alive.
Quad biking
For some reason quad biking brings adults the kind of innocent glee and excitement that is usually reserved for children. Driving in dirt would normally be counted as frustrating but somehow a quad bike makes all the difference. Not only is it thrilling and exciting but it can also be enjoyably competitive and there's no one I know who doesn't like winning! What's different about quad biking is that it gives you that longer lasting thrill. With some adrenaline fuelled activity you get a massive dose of excitement and then you're finished whereas quad biking lets you enjoy that excitement with every hill and bump. Fun and adrenaline first-timer friendly.
Queenstown
Hiking
Hiking is a good way of getting to grips with nature and getting to know the people around you better as well as being incredibly good exercise. So ditch the mobile phones and any other brain-draining electronic device and be free of the busy, noise-polluted world we live in for a while and let your natural caveman come out as you take a nice hike and appreciate the beautiful landscapes of New Zealand. Take it slow, it's not a competition, and make sure to drink in your surroundings (although I'd still advice to bring an ACTUAL drink in case you get thirsty!) have fun and relax.
Rafting
Thrilling, exhilarating and slightly scary, white water rafting is indeed pretty incredible. It's a great way to meet and bond with others as well as a memory that you won't be forgetting easily. Working as a team to raft up and down the rivers is great fun but it is very likely you'll get soaked so it's probably not for those who mind looking like a water rat whilst having fun. Perhaps rafting is similar to the fountain of youth as it's sure to make you feel young and brimming with vitality.
Have fun in good old New Zealand but, before you go pack your swimming costumes and towels, visit MyTravelMoney.co.uk and compare foreign exchange brokers to get the best rates or your New Zealand dollars!