How to pack your suitcase for a holiday!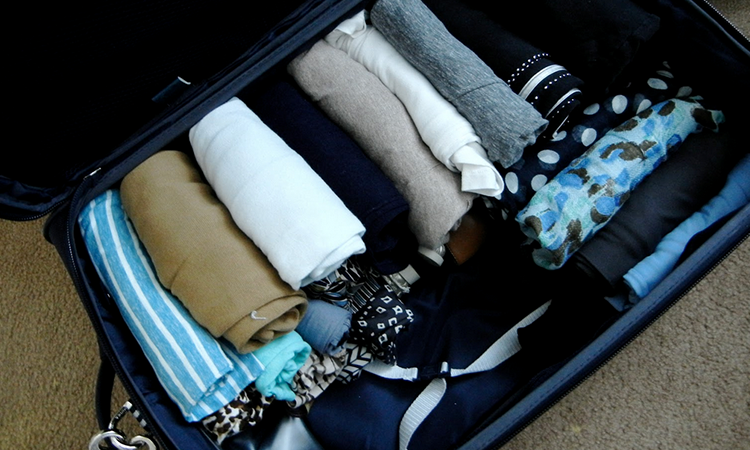 Okay, so maybe we should know by now how to pack a suitcase, but, to be fair…it's a lot harder than it looks! The typical troubles come up over and over again. From not being able to fit it all in or arriving with a suitcase full of clothes more creased than Gordon Ramsay's forehead- we've suffered all the horrors. In fact, if you're anything like me, you'll get there and open your suitcase to a whole load of things that you really didn't need e.g. "Why on earth did I pack this? Ski jacket…I'm in Capri!" Luckily for you MyTravelMoney.co.uk is here to tell you how to pack like a pro.
Buying the suitcase
When suitcase shopping it's easy to be attracted to the massive and pretty, diamante studded, multi pocketed, could–fit-all-and-the-kitchen-sink, wheeled suitcase but think logically, if your suitcase already weighs a ton empty, it's not getting any lighter once it's filled with all your stuff. Also there's always a rush towards the biggest suitcases but, as the saying goes, less is more! If you can fit all your stuff into a smaller suitcase then you really should think about doing that as empty space in a suitcase is space where your possessions can fall and crash into. A snug fit is best as there's no room for stuff to tumble around. Obviously buying a noticeable suitcase makes it a lot easier when you collect it from that most dreaded carousel of them all- the baggage carousel. It's incomparably amusing to see the dread on people's faces when they get there and realise they have the same Louis Vuitton suitcase as half of the other people. This doesn't mean you have to buy a suitcase you don't like or avoid Vuitton Luggage but you can tie a colourful ribbon or scarf tightly to your luggage to make it more recognisable. Also think about whether something like a duffel bag is more appropriate. They're a lot lighter, easier to carry and, unlike hard shell suitcases, you can squash them down to fit through the bag check-in.
What to pack
Check the weather and pack accordingly. Try to bring pieces that you can mix and match so even with just a few items you can make many different outfits. Bringing clothes that can be layered up is especially good when you're going somewhere with temperamental or uncertain whether so you can put on or take off an extra layer if need be. Think about how many different outfits you can make out of one dress etc and remember accessories make the outfit…and they're a lot smaller. Pack a couple of necklaces or belts etc so you can update the same outfit to wear it again. Don't over pack on shoes- it's a packing crime that most are guilty of. How many different shoes do you really need? I would say one smart, one casual and for a sport holiday then one sports shoe. Don't bring unnecessary shoes you won't be able to wear such as tons of high heels for a trip to Iceland. Heels on snow or sand really doesn't work.
To fold or not to fold
I've heard an endless list of techniques in this department and whilst some of them are nonstarters (e.g. gather your clothes up into a pile and roll them into a ball), others are significantly more effective. Folding- If you can actually fold then it's quite a good technique but if you fold them wrongly then you'll just end up with a series of strange creases in your clothes plus it's not the most space effective technique. Rolling is a much loved technique for most but it still makes clothes end up creased end causes the clothes to hang strangely when putting them on straight from your luggage.
Over the years I've devised my own foolproof technique and if I can do it then so can you:
Put weighty items on the bottom such as jeans and big jumpers. Follow with easily creased items so they can sit in the middle of the case and have weight on them from both sides to help save from creasing. From here work your way up by packing heaviest to lightest.
Putting tissue paper between layers helps stop creases. Fold everything carefully apart from things that can be rolled such as socks.
To save embarrassment pack any delicates in a drawstring bag- packing as if you're going to be spot searched is the way to save yourself from being mortified if it does actually happen.
Put shoes in bags so they don't transfer dirt onto your clothes and by stuffing your socks in your shoes you can keep them from losing their shape. Fill any gaps with rolled up scarves, socks etc.
Put any toiletries or things that might leak or burst into a plastic bag so it doesn't go over your clothes. Squeezing air out before replacing the lids helps combat toiletries exploding.
Pack all valuables and, if you're as paranoid as I am, a spare change of clothes, in your hand luggage in case your suitcase gets lost- it happens.
Before you're off to pack the best suitcase you've ever packed with our top tips in hand, don't forget to visit MyTravelMoney.co.uk to compare travel money offers and get the best deal for your holiday money. Bon Voyage!