Top 5 Culture Getaways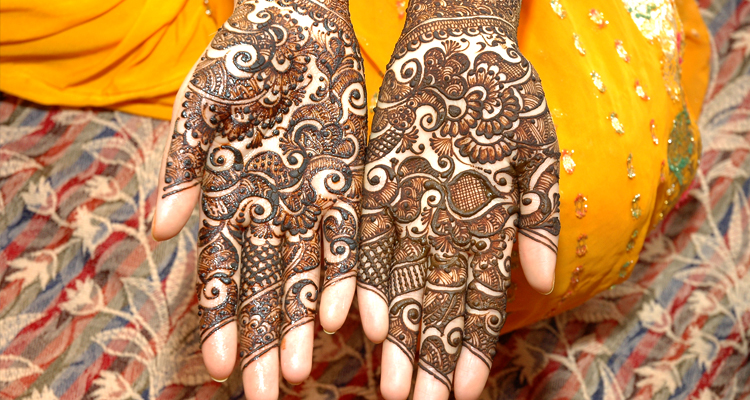 Ever wanted to swap the usual sandy beach or skiing holiday for the ultimate getaway? Why not make 2014 the year to visit one of the most awe-inspiring cities in the world, bursting with customs and traditions and plenty of history and sights to see to keep you occupied. From the souks of Marrakech to a classic mojito in Havana, we've put together a list of the top 5 must-visit culture getaways.


Hi there and welcome to another episode of MyTravelMoneyTV. Sometimes those photographs of sandy beaches, crystal clear waters and swaying palm trees can be all too beckoning and we're far too quick to crave a holiday in the likes of Koh Samui and Hawaii. That's why today we've put together a list of the top 5 cities in the world that are bursting with culture, ready to put the thrill and excitement back in to your travels.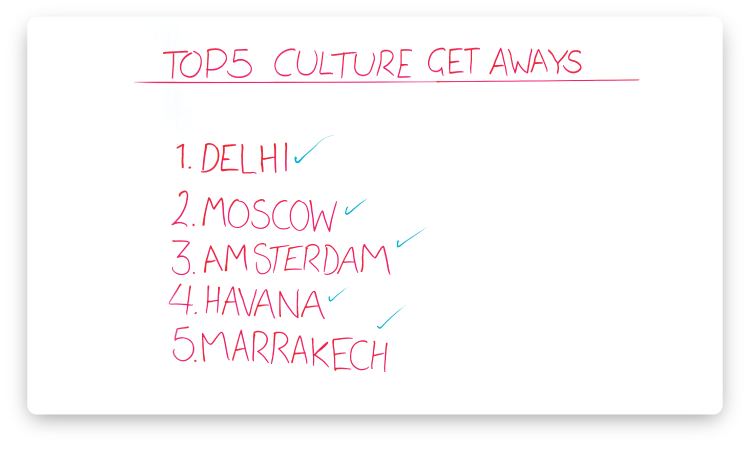 Delhi, India
India is one of those countries that is wonderfully chaotic and bursting with culture.  From old Delhi, the living and breathing soul of India with noisy city streets and uncoordinated traffic to the impeccably kept gardens and sights of New Delhi; the capital is unbelievably overwhelming. For a truly cultural experience be sure to eat like a true local with curries tasting just how they should and enough spice to make your mouth water. When visiting India, be sure to dress appropriately and respect the country's traditions to enjoy one of the most fascinating places in the world.
Fancy a visit to the Taj Mahal? On 27th March 2014, £1=100.255 INR
Moscow, Russia
The historic heart of Russia, world renowned for its exquisite architecture and beautiful art. Boasting over 80 museums, dozens of theatres and opera houses home to musical prodigies, Tchaikovsky and Rachmaninov, this is certainly the place to visit for those interested in performance and music culture. When in Moscow, don't forget to visit the state Kremlin Palace and of course have your fair share of authentic Russian Vodka.
Taken by the astounding architecture that Moscow has to offer? On 27th March 2014, £1=59.218 RUB
Amsterdam, Netherlands
Well-known for its canals, trams and bicycles galore, not to mention the brightly coloured picturesque houses, Amsterdam has a lot to offer its visitors. Taking a stroll or bike ride around Amsterdam is not only the cheapest option but also one of the greatest pleasures of this city. Tucked away alleyways in Amsterdam are full of quirky shops, cosy cafes and perfect for finding those wonderful pair of clogs to take home to friends and family. Beware though, anything goes in Amsterdam so be sure to expect somewhat of a culture shock!
 Want to explore the canals of Amsterdam? Why not take advantage of the benefits of a Euro Prepaid Currency Card.
Havana, Cuba
Perhaps best known for its classic mojitos, open-top classic cars and salsa bars, Cuba is somewhat of a 1950's throwback, but a welcoming change. Old Havana is home to beautiful historic squares such as the Plaza de la Catedral and the Colonial Art museum while the historic Morro fortress guarding the entrance to Havana Bay is a sight not to be missed. Havana really is one of those places where you can just kick back and relax and enjoy the culture, just be warned not to accept a local's offer to show you round only to charge you the earth in return.
Marrakech, Morocco
Morocco is a country already bursting with culture but if you really want to find the heart of the hustle and bustle, you simply must visit Marrakech. Divided in to two parts, the new city and the medina, this city definitely has enough to give for a multi-sensory experience. During the day, a walk through the meandering souks in the medina will have you haggling for exquisite Moroccan jewellery and bright lanterns. Or by night, visit the Jamaa el Fna square for a vibrant display of snake charmers, monkeys performing acrobatics and fire-eaters while enjoying the national custom of having mint-tea poured in to a glass from quite substantial heights. Our top tip when visiting Marrakech, go on a herbs and spices haul as they are substantially cheaper than in the UK.
So we hope you've enjoyed our top 5 places to visit for that wonderful culture experience. If you want to share your own culture experiences, why not tweet us @MyTravelMoneyUK or email me directly at [email protected] Thank you for watching and goodbye.
Written by Sofia Kluge on Google+