Top 5 Travel Apps to Record and Share your Trip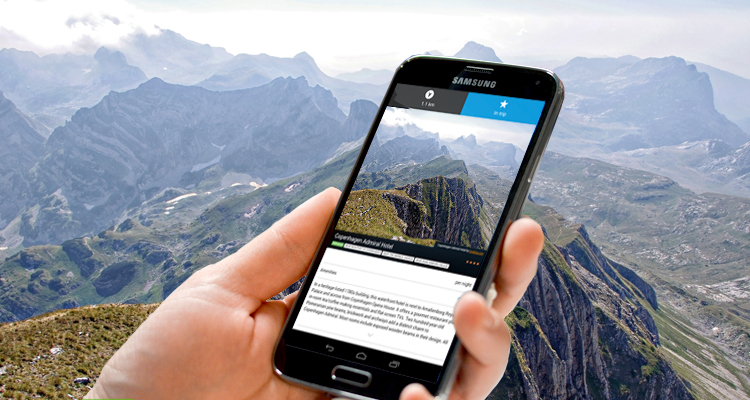 Undertaking a once in a lifetime trip to Thailand? Maybe you just want to share your beach snaps with jealous friends back home! Whatever the occasion of your trip, you'll most likely want to keep notes of where you've been, what you've seen and some great pictures to go with them! That's why we've put together a list of the top 5 travel apps to record and share your trip so you can leave your notepad and camera back home, using nothing more than your smartphone to create a memorable travel journal to share online with loved ones or for all to see.



Hi there and welcome to another episode of MyTravelMoneyTV. Today we are going to share some of our best loved apps with you that are great not only for recording your trip, but also sharing it if you say have a photo blog or keep a travel diary.
So perhaps you've dreamed up your perfect holiday or maybe you're already packing and ready to take off tomorrow! The key to mastering mobile apps is to not go overboard. Too many apps are overwhelming and you either end up using none of them or using them inefficiently. So we recommend you have a think about what you want to do with your photos, travel notes and maybe download the apps that are best suited to you. Then give them a test run on the plane or train and see how you get on.
All these apps are great at linking with other social networks and blogs. You can kill several birds with one stone and autopost your photos and short videos to Facebook, Twitter, Tumblr and Flickr streams.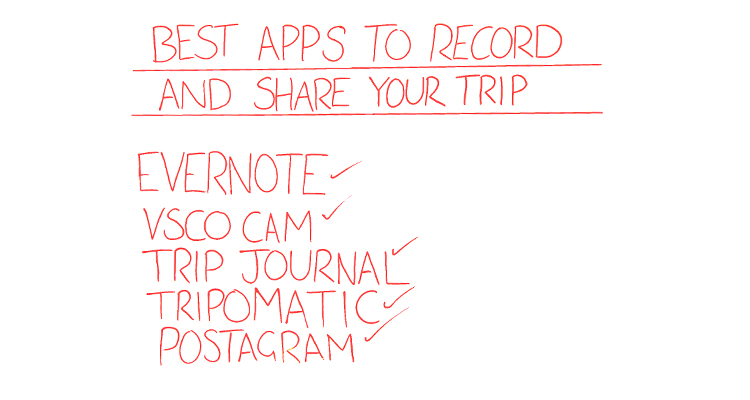 Evernote
Evernote is an easy-to-use, free app that helps you remember everything across all of the devices you use. Stay organised, save your ideas and improve your productivity. Evernote lets you take notes, capture photos, create to-do lists, record voice reminders–and makes these notes searchable, whether are at home, at work, or on the go. The app allows you to create and edit text notes and task lists as well as add handwriting and sketches to your notes if you want to create a travel journal. One thing we love about this app is that you can search for text inside images and organise all your notes by tags. You can then sync these with your computer at home to create a shareable compilation of your trip.
Evernote is available on App Store & Google Play
VSCO Cam
This great app is one of the most comprehensive apps for photo taking for smartphones out there. The presets in the app trump the likes of Instagram and the sharing capabilities are endless. All tools within the app can be adjusted and customised to suit the feel you want to achieve in your photographs. These range from exposure, temperature, fades, vignettes and contrast to define your look. On holiday we all like to take a thousand off photos and that's why we love the viewing feature that allows you to browse your pictures in different thumbnail sizes. Of course all images can be exported full resolution and shared with friends and family on social media.
VSCO Cam is available on App Store & Google Play
Trip Journal
Trip Journal is the ultimate travel app to track, record, document, and share your travels with friends and family. Everyone loves travel photos and videos. You can add them to Trip Journal from your iPhone Photo Gallery or take them in Trip Journal. Maybe there are some special things you want to jot down to remember about a place you visited. You can write notes in the journal to describe your vacation experiences and you can add comments to photos and videos as well. With Google Earth integration, Trip Journal allows friends and family to easily see the route you travelled, the places you found most interesting, and full screen photos, videos, and comments about the places you visited. It even includes trip stats like the distance, time and geography you traveled. What you get in the end with Trip Journal are one-of-a-kind travel journals handcrafted by you, rich with your travel experience and full of great travel memories captured for many years to come that you can share anytime and anywhere, with family and friends near or far.
Trip Journal is available on App Store & Google Play
Tripomatic
Great not only for planning your itinerary, this app even allows you to see your trip visualised in a really neat infographic to share with your friends across all platforms. Aside from this aspect, you can create a personal travel guide adding sights you see along the way so you don't miss anywhere you've been! You can even download maps and edit your trip from any device with your web browser if you want to fine tune any details. This app really is an all in one travel gem.
Tripomatic is available on App Store & Google Play
Postagram
It doesn't all have to remain digital! We absolutely love this app, and not many people know about it. Postagram turns your iPhone, Instagram and Facebook photos in to beautiful postcards delivered by real mail! So how does it work? Well you simply choose your photo, add a personalised photo of yourself if you wish, include a message and away you go. Great if you're in the middle of nowhere and don't have a clue where the nearest postbox might be, let alone how to ask for a postage stamp!
Postagram is available on App Store & Google Play
So we hope you've enjoyed our video and hope you enjoy these apps for documenting and sharing your trip with friends and family. Above all, enjoy your trip! If you have any questions, feel free to tweet us @MyTravelMoneyUK
Thank you for watching and goodbye!
Written by Sofia Kluge on Google+