Where is hot and has good holiday deals in March?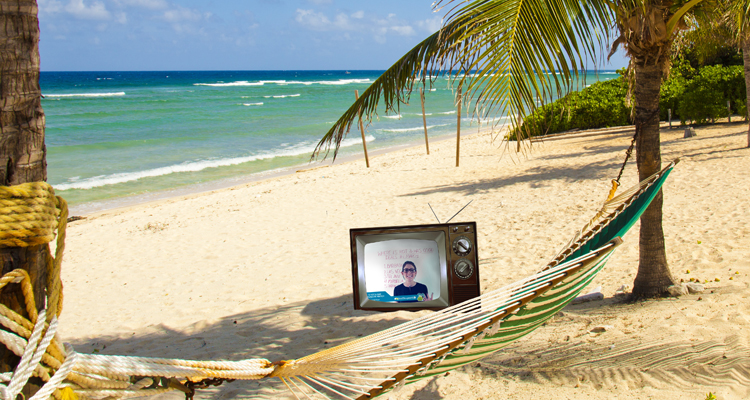 No doubt you're as sick of the British weather as we are, and we're quite certain you've been thinking about which destinations are currently basking in sunshine. That's why, we've done the research and have put together a list of the top 5 destinations that are both hot and provide some good holiday deals in March. From top tips on where to stay and what to watch out for while you're there, we bring you our MyTravelMoney Top 5 list of where is hot in March.



Good afternoon and welcome to another edition of MyTravelMoneyTV. If you can't wait for the Summer and are itching to put on a bikini or pair of trunks, we've come up with a list of fantastic options for a warm weather March, early Easter getaway. We often get asked by our visitors, "Where is hot in March" and whilst we're no Michael Fish on the weather front, we've scoured the market, done our research and come up with a range of suggestions that shouldn't break the bank.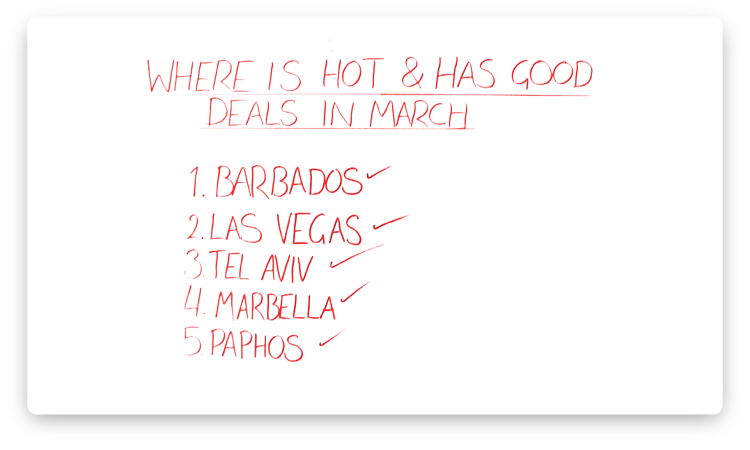 So here goes, MyTravelMoney's list of 5 hot destinations you could visit in March, offering some good deals, a touch of bling and value for money:
Barbados, Caribbean
Barbados normally ranks pretty high on the 'Where is hot in March' rankings and quite rightly so. Boasting some of the best beaches in the world, expect up to 9 hours worth of sunshine per day. So, get those Ray Bans out! If your Celebrity spotting, head down for a drink to the Sandy Lane Hotel, albeit expect to take a battering to your bank account. The Sandy Lane is normally frequented by the likes of Philip Green, Simon Cowell and Rhianna. In March, there will be a raft of package holidays, suiting all types of budget.
Remember: Barbados uses US Dollars as their local currency.
Las Vegas, USA
From gambling to pool parties, spectacular shows and food heaven, Las Vegas has it all. Quite simply, Viva las vegas! Prepare to put on a pound or two at the infamous Las Vegas Buffets. Or if your really going for it, think about picking up a 'Buffet Pass' which will let you eat as much as you like at multiple participating hotels.
Whilst we would recommend to stay on the strip to feel the full Vegas experience, if you want to save up to 40% on hotel costs, think about staying a block or two away. The Hard Rock Hotel offer reasonable rates, and it's a 10 minute walk from the strip.
Disclaimer: Watch out for the college kid, Spring Break crowd in March at some of the more economical hotels! On the other hand, if Pool Parties are what your after, check out the Facebook Group Vegas Pool Season.
On the strip, our top pick is 'The Cosmopolitan' which we hear has a fabulously hip vibe. Check out Marquee Dayclub and Nightclub! Our Co-Founder Dan will be staying there later this month, and will do a more in-depth report.
Thinking of heading stateside for the Vegas experience? Don't forget to buy your US Dollars before you travel.
Tel Aviv, Israel
Expect weather in Tel Aviv of up to 25 to 28 degrees in late March. Easyjet offer cheap tickets and in less than 6 hours, you could be topping up your tan in the Jewel of the Mediterranean.
Recently, Tel Aviv got voted in the Top 10 beach cities in the world, the sand and sea are magnificent, reminiscent of the Copacabana. At MyTravelMoney, we're slightly biased as we have an office in Tel Aviv. Explore the Port of Jaffa, the nightlife in Rothschild Boulevard and if you're feeling adventurous, hop on a Sherut, which will only cost you a couple quid, and head to Jerusalem. For high end luxury, check out the David Intercontinental. Flashpacking? Look at the raft of smaller, boutique hotels in and around Tel Aviv.
On 6th March 12pm, £1=5.82136 New Israeli Shekel
Marbella, Spain
Marbella is pretty hot in March, expect weather of up to 22 degrees. Of all our picks, it's certainly the shortest flight and most affordable. Almost all budget airlines fly in to the Costa Del Sol. Perfect for a golfing weekend, retreat with the missus or party holiday with friends. Best way we can describe 'Marbs?' A lovely holiday with a touch of bling.
When travelling through Europe, you can make the most of top exchange rates with a Euro Currency Card.
Paphos, Cyprus
This sun drenched corner of Cyprus is a hotspot for the all inclusive, package holiday. Perfect for a sunny holiday in March to rejuvenate and get set for the summer. You can be guaranteed warm weather, British expat bars, fine dining and an extremely friendly welcome for Brits heading to this beautiful isle. Play golf? You won't be short of options. Check out Aphrodite Hills.
On 6th March 12pm, £1=1.21661 Euros
So there you have it, here's are top tips for a March getaway where the sun will be shining. We hope you enjoyed today's episode of MyTravelMoney TV. If you have any follow up questions, please do not hesitate to contact me personally on [email protected] OR on twitter @mytravelmoneyuk
Have a great day!
Written by Sofia Kluge on Google+