Japan: 5 Essential Experiences to Have in Kyoto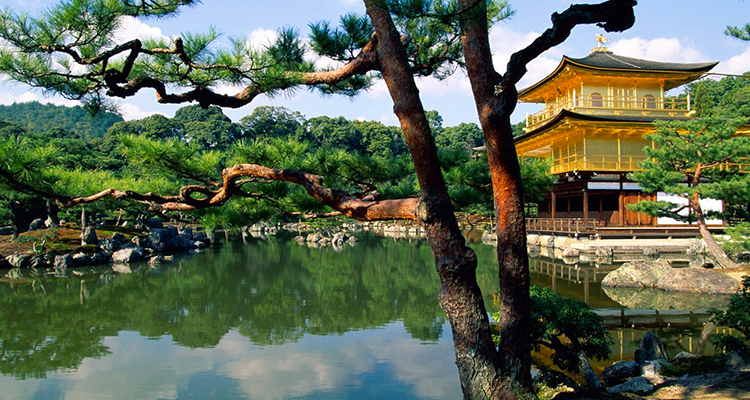 With flights to Osaka becoming more and more affordable, this is a great year to visit Japan and help put it firmly back on the map as a top tourist destination.
Visit the Kansai district in Southern Japan for a day out in Kyoto, which is the former capital and is famed for its cherry blossom, Shinto shrines and Buddhist temples.
It's still Japan's ancient and cultural heart – and the only place you'll find real life working geishas which, among our other top four things to see and do, you really shouldn't miss.
1) See The Golden Pavilion
Otherwise known as Kinkaku-ji Temple, the golden building is one of the most impressive sights in Kyoto. The former Shogun residence is upstaged only by its own reflection in the adjacent lake.
2) Visit The Gion District
Pay a visit to Gion Kobu late at night and you might be lucky enough to see one of Kyoto's 500 working geishas as she flits from tea house to tea house.
3) Sample sushimi at Ganko's
Ganko's is a chain of 100 restaurants across Japan which serves up some of the freshest and most delicious seafood in the world. Apprentice geishas – or maikos – sometimes dance here too.
4) Sleep in a traditional ryokan
If you're planning an overnight trip to Kyoto, book into a traditional Japanese inn rather than a sky rise hotel. You can't beat the experience of sleeping on tatami mats and sitting on the floor.
5) Splash out on a communal bath
Bath houses are everywhere in Kyoto and if you've never tried communal bathing, you've never lived. We guarantee that, once you've bathed like this, you'll never want to go back.
Before you travel, don't forget to compare currency and check out the best rate for Yen at MyTravelMoney.co.uk