How to order World Cup holiday money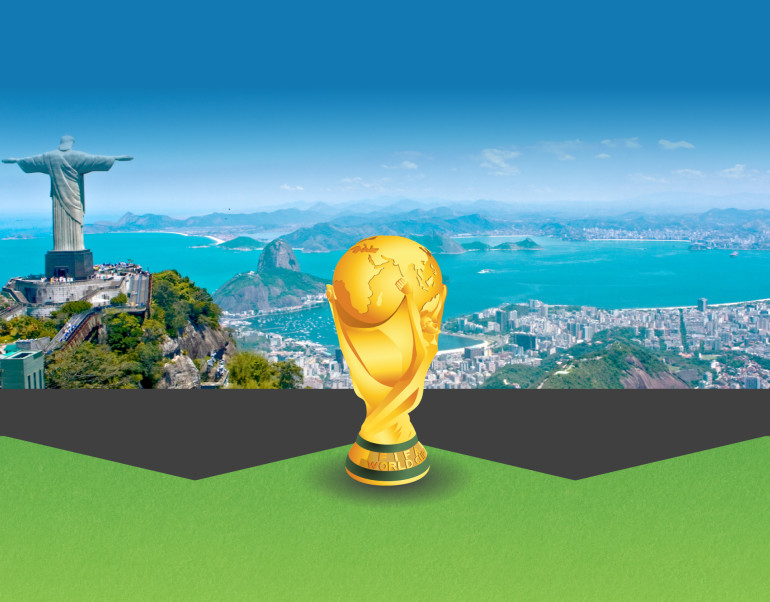 Jetting off to Brazil this summer to watch England lift the World Cup? Sure you'll want to spend some time soaking up the view on Copacabana beach or taking in the nightlife in Rio de Janeiro. Check out this useful guide on how to order your Brazilian Reals and some quick hints and tips on how to look after your travel money once in Brazil.



Good morning and welcome to another episode of MyTravelMoneyTV. Today, we're going to get into World Cup spirit and help out the tens of thousands of Brits who will be heading over to watch Stevan Gerrard lift the World Cup for England…we wish!
No doubt, it's probably costing you an arm and a leg and maybe a ticking off from the Mrs. to even board that plane to Rio or Sao Paolo. So, now your committed, we want to give some top tips on how to make your Pounds and Brazilian Real go that little bit further.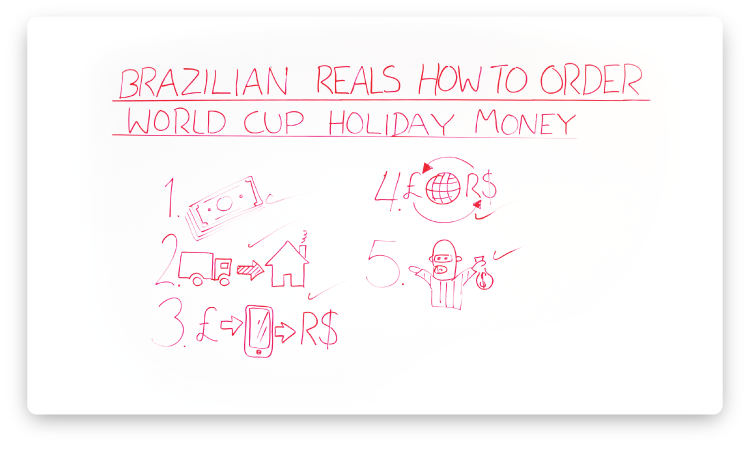 Brazilian Reals
The currency of Brazil is the Brazilian Real. At the time of this presentation, £1 at today's market rate on the 18th converts into 3.9815 Brazilian Real. You can check out the live rates on the MyCurrencyTransfer Brazilian Real on our currency conversion pages.
At the point of buying your Brazilian Reals, always check the rate you are being offered for Reals against the mid-market exchange rate.
Remember, the closer the two numbers, the better the deal. The wider the two numbers, the worse the deal.
Go for home delivery
The world's worst place to exchange Brazilian Reals is the airport bureau at Heathrow, Gatwick, Manchester Airport or wherever you are flying from. It pays to shop around on your travel money. By ordering reals online for home delivery, you can save up to 10% on the exchange rate alone. This can equate to £50 for every £500 worth of Brazilian Real you are buying.
Take a currency converter app
Heading to Sao Paolo's famous food market? Guzzling beer with the Three Lions fanatical fans in the main square in Rio? Consider taking a currency converter app on your travels. You'll quickly be able to see the cost of your Brazilian currency purchases in your home currency. Apps like MyTravelBuddy will also let you note down every expense if your feeling super frugal. Holiday money does not need to be like play money anymore!
Beware of dynamic currency conversion
Whether you're in the Jungle in Manaus, Belo Horizonte or Rio, please stick to one golden rule. When Carlos your wine waiter asks whether you want to pay by plastic in Pounds or Brazilian Reals,' always opt for Reals. Selecting the local currency will avoid the pitfalls of dynamic currency conversion, which would essentially give the local restaurant free reign to set the exchange rate markup. And when they do, it isn't pretty, you could pay up to 6% more.
Confused? Check out our useful guide on Dynamic Currency Conversion.
Don't carry valuables around with you
It's highly unlikely you'll run into any problems with theft, even with the reputation Brazil has. The World Cup will undoubtedly be policed heavily and you should be able to roam around without fear. Still take care and don't wear any unnecessary valuables to draw unwanted attention. When your walking up the Copa Cabana at night, Ditch the Rolex watch, Hermes belt or Gucci shoes. The World Cup is a carnival, not a fashion parade! I'd advise not to wear any jewellery at all.
Likewise, think twice before you ask a group sitting next to you on the beach to look after your stuff before you go for a swim. It's not worth the risk.
So, to round off, we hope you have a fabulous time in Brazil and we're keeping all our fingers crossed that you'll see Stevan Gerrard come home with the World Cup. We're not holding our breath, but hey, funnier things have happened.
We hope you enjoyed today's episode of MyTravelMoneyTV. If you have any follow up questions, don't hesitate to contact us on Twitter, our handle is @mytravelmoneyuk or you can email me directly [email protected]
Written Sofia Kluge on Google +